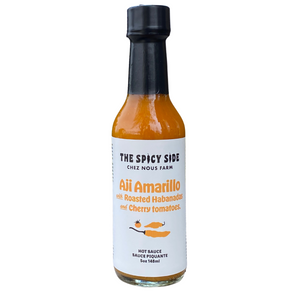 Full of farm favourites!
Aji Amarillo which is fermented is an absolutely amazing pepper from Peru.  Habanada is a delicious fruity heatless habanero which we roast to caramelize the natural sugars.  Then there is our super sweet cherry tomatoes which are grown in the greenhouse with low amounts of water to concentrate their flavour. There is also a small amount of winter squash, which in this batch is Robins Koginut Squash- a cross between Kabocha and butternut. Finally those little red specks you see are fresh Cumari Pollux chiles which also have nice fruity notes.  Topping it off is some local wildflower honey. 
Try this mild sauce with all your favourite dishes. Favourites so far are pasta, dishes with white creamy sauces, crackers and cheese, garlic parm Amarillo wings.
This is a really fun one to experiment with.
Heat 1/ 5
INGREDIENTS: *FERMENTED AJI AMARILLO, * ORANGE CHERRY TOMATOES, *ROASTED HABANADA PEPPERS, *ONIONS, FILTERED WATER, LOCAL WILDFLOWER HONEY, ROASTED AJI AMARILLO, *RAW APPLE CIDER VINEGAR, *ROASTED WINTER SQUASH, *FRESH GARLIC, SEA SALT, * FRESH RED CHILE, *OLIVE OIL