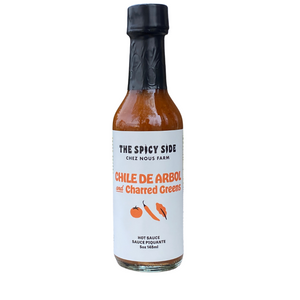 A fine example of seed to bottle.
This sauce was crafted in the middle of winter and features a multitude of harvests and preparations made all season long. From the green tomatoes which were picked and frozen, the chile de Arbol and Ancho which were dried, the red serranos which were fermented, and onions and garlic which were cured and stored.  The winter greens (tatsoi and cilantro) were a walk through the crispy snow to harvest fresh in the greenhouse.
This sauce is a medium-heat everyday sauce with a beautiful texture and a nice easy pour. It goes great anywhere you would use salsa. It's a versatile cooking ingredient too from dressing to marinades and as a base for other sauces. It also mixes great with honey allowing all those bits and pieces to show!
HEAT is 2/5
INGREDIENTS: *ROASTED GREEN TOMATOES, *CHILE DE ARBOL, *ONIONS, DISTILLED VINEGAR, FILTERED WATER, *FERMENTED SERRANO, *CHARRED WINTER GREENS (TATSOI), *TOASTED SESAME SEEDS, *FRESH GARLIC, *LIME JUICE, CELTIC SEA SALT, *ANCHO PEPPER, * BLACK PEPPER