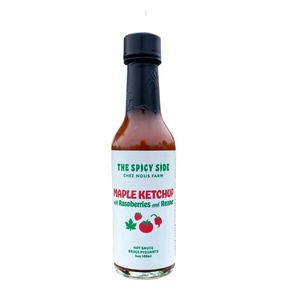 Our take on a ketchup hot sauce.
We started by making a ketchup base from scratch with our homegrown mix of Roma and San Marzano vine-ripenedtomatoes, homegrown maple smoked onions and local organic black garlic. We don't use and refined sugars in any of our products so this ketchup is sweetened with pure Maple Syrup.
The sauce gets it's heat from our dried Aleppo chiles and fermented Carolina Reapers. The final twist is our raspberry mix ( golden, red and black) which makes its appearance on the palate in the final moments.
I like to showcase the main ingredients on my sauce labels I hesitated boasting that the main ingredient was tomatoes for this one because I didn't want to scare away our non tomato lovers so I called it a Ketchup as this is very much ketchupy! However, it works as hot sauce, a bbq sauce and a wing sauce.
Heat is a 2/5 and a bit of a sneaky builder.
INGREDIENTS: *Tomatoes, vinegar, raspberries, maple syrup, dried chile peppers, tomato paste, maple smoked onion, fermented Carolina reapers, sea salt, black garlic, cinnamon, onion powder, coriander allspice, black pepper, cloves