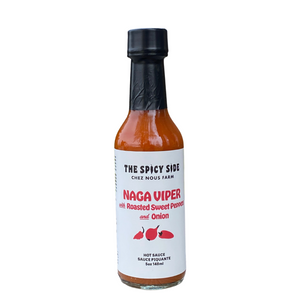 A hotter one in our lineup is the Naga Viper with Roasted Sweet Peppers and Onions.
This sauce is jam-packed with farm goodness! Fermented fiery Naga Vipers with a combination of roasted vegetables ( mixed sweet peppers, yellow and red onions and garlic), juicy red romas, and dried chiles ( ancho and morita)
Try it on everything! We like it on eggs, meats, sweet potatoes and curries. 
Heat is 3/5
INGREDIENTS: *ROASTED SWEET PEPPERS, DISTILLED VINEGAR, *ROASTED ONIONS, *ROMA TOMATOES, *FERMENTED NAGA VIPER MASH, *RAW APPLE CIDER VINEGAR, *ROASTED GARLIC, *DRIED CHILE PEPPERS ( ANCHO, MORITA), PURE MAPLE SYRUP, *LEMON JUICE, CELTIC SEA SALT, *OLIVE OIL, *CINNAMON, *GARLIC POWDER, *ROSEMARY, *ONION POWDER, * BLACK PEPPER