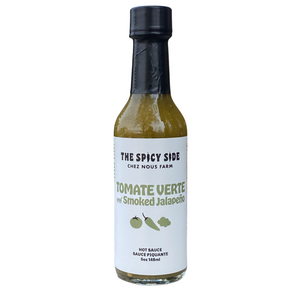 Everyone needs a great green sauce! This one uses an ingredient you don't see often green tomatoes.   They make a wonderful sauce and really lucky to enjoy a great big green tomato harvest come the end of the season on the farm.
This sauce is mild enough to pour generously when you like things saucy which I do! Try it on everything! Think breakfast, Mexican dishes, all meats, and marinades. Don't forget salads and dressings too. 
For a quick dressing just add oil, extra garlic and herbs, fresh lime, and honey. 
Follow us on Instagram or Facebook as we plan to whip up some quick recipes using all our sauces.
Heat 1/5
INGREDIENTS: * SMOKED JALAPENOS, *ROASTED GREEN TOMATOES, WATER, DISTILLED VINEGAR, CHARRED ONIONS, *SERRANO PEPPERS, *FRESH SQUEEZED LIME JUICE, *FRESH GARLIC, *BOTTLED LIME JUICE, CELTIC SEA SALT, *CILANTRO, *DRIED CHILE DE ARBOL, *GARLIC POWDER, *CELERY SEED, *BLACK PEPPER. * = ORGANIC