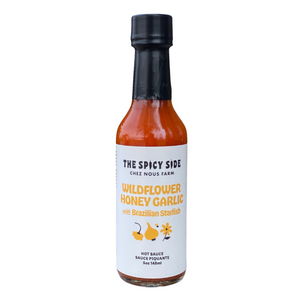 As the name implies, this one is sweet and garlicky! The fermented Brazilian Starfish is a really cool delicious fruity pepper from Brazil that brings just enough heat to consider this a family-friendly sauce.
Use it anywhere! Most of our sauces are not sweet and so we like to add some honey garlic when we are craving sweet ex: Honey Garlic mixed with Wow Sauce for wings! Also makes a great honey mustard, thai dressing or wings.
Follow us online for recipe ideas!
HEAT 1.5/5
INGREDIENTS: *FERMENTED BRAZILIAN STARFISH PEPPERS, LOCAL WILDFLOWER HONEY, *CARROTS, ASIAN PEAR, *BELL PEPPER, *RICE VINEGAR, *FRESH GARLIC, CELTIC SEA SALT, *FRESH GINGER