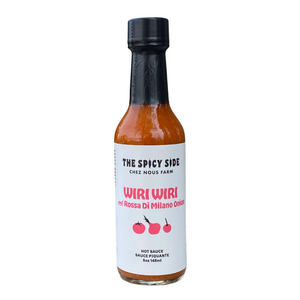 Wiri Wiri is a fiery little pepper from Guyana and it's my most inquired-about chile at the farm.  It's no wonder because those who have tried it just love its distinct flavor.  The best way I can describe it is  fruity-tomatoey with a strong enticing aroma. During the summer months, i never leave home without a few of these in my purse!
Often cucumbers and/ or green mango are used in Wiri Wiri sauce but we don't grow green mango and while we love the cucumber combo we wanted the Wiri Wiri to play the main role which the mild green tomatoes allowed us to do.  Our amazing Rossa di Milano heirloom onions and garlic add savouriness to this simple sauce.
We kept this sauce pretty mild so more of our customers can appreciate this special pepper.
Use it anywhere you enjoy hot sauce.   We like to mix it with ketchup or mayonnaise and often use a generous splash in our fresh salsas.
HEAT 3/5
Follow us on Instagram or Facebook to get recipe ideas!
INGREDIENTS: *ROASTED GREEN TOMATOES, DISTILLED VINEGAR, WATER, *ROSSA DI MILANO ONION, *WIRI WIRI PEPPERS, ROASTED GARLIC, * LIME JUICE, CELTIC SEA SALT. ORGANIC*